Meeting Memories – Study visit to Jasenovac Memorial Site and Stara Gradiška
23. April 2021 11:14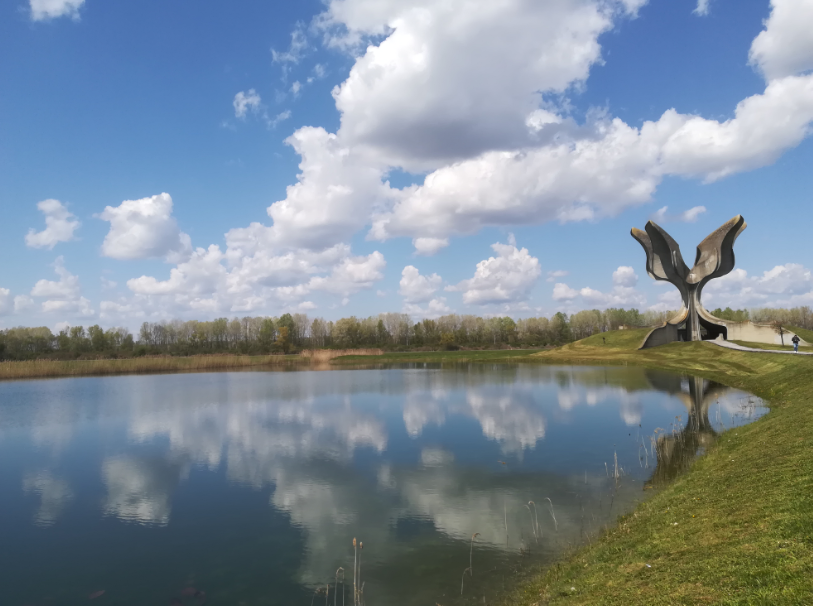 The program "Meeting Memories" aims to discuss the themes of culture of remembrance, commemorative practices, contemporary history, and different totalitarian regimes, through the lenses of photography. Participants from Croatia, Bosnia and Herzegovina, Germany, Italy, Serbia and Slovenia, visited places of remembrance in their countries and took photos of the locations after online sessions with photographers Sandra Vitaljić and Saša Kralj, which served as an introduction and preparation.
On April 21, the participants from Croatia visited Jasenovac Memorial Site and Stara Gradiška.
They started with a guided tour of Jasenovac Memorial Site. The Memorial Site was built in the immediate vicinity of the former Jasenovac concentration camp, Camp III ("Brickyard"), which was founded and managed by the Ustasha forces in the Independent State of Croatia (NDH). Serbs, Roma, Jews, Muslims, as well as Croats and members of other nations who were considered opponents of the regime, were detained in the camp. Additional information is available at: http://www.jusp-jasenovac.hr/
Today, at the Memorial Site, the original locations of buildings and execution sites are marked by earth mounds, while railway sleepers, denoting part of the preserved railway track used to transport prisoners to the camp, pave the path to the Flower Memorial, built in 1966 and designed by Bogdan Bogdanović.
The participants also took part in the opening of the exhibition "The path of no return: from the Slana camp to the Jasenovac camp".
The group also visited Stara Gradiška. Now abandoned fortress, built in 18th century, was first used as a prison in 1799. After the end of the First World War, the prison in Stara Gradiška was used to house the first political prisoners of the newly-formed Kingdom of the Serbs, Croats and Slovenes. In the Independent State of Croatia, the Ustashas turned the prison into a concentration camp. The first groups of prisoners, influential and rich Serbs and Jews, were brought to Stara Gradiška in May 1941. Thousands of female inmates with children were brought in female camp in July 1942 after Kozara Offensive by the Axis Forces, which was fought on and around the mountain of Kozara in northwestern Bosnia. In camp, women were separated from children and sent to Germany as forced laborers. Thousands of children exposed to hunger and infectious diseases perished. Several thousands were saved in action by Diana Budisavljević and her team, transported to Zagreb and adopted. Božo Judaš whose personal memory you can see at: www.osobnasjecanja.hr/video-arhiva/bozo-judas/ was one of those children. Stara Gradiška was liberated exactly 80 years ago on April 24, 1945. Today, the buildings of the former prison are mostly abandoned and largely destroyed.
"Meeting Memories: Learning from the Past to Confront Dehumanization Today" is financed by Europe for Citizen Program of the European Union.