International Exhibition "After the Great War. New Europe 1918 – 1923." comes to Rijeka
15. October 2020 11:16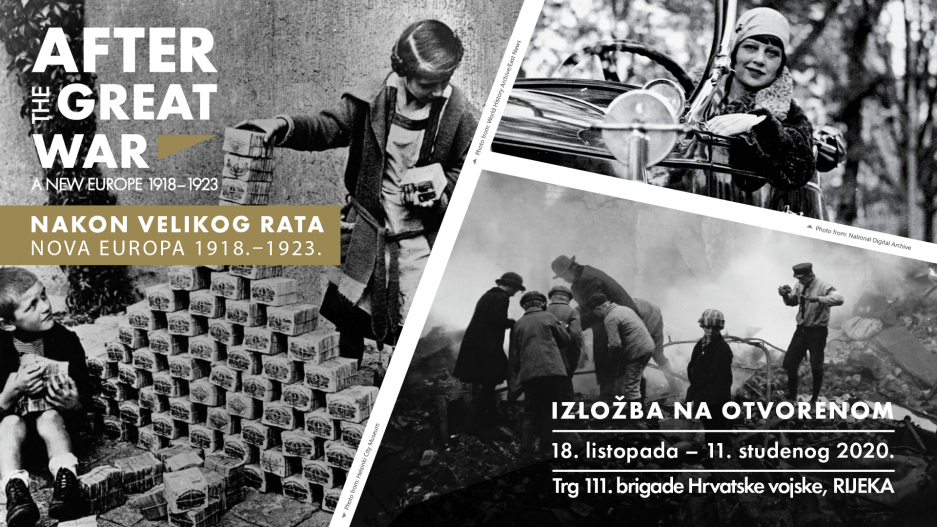 On October 20, 2020 at 11 a.m., on the square of the 111th Brigade of the Croatian Army in Rijeka, the official opening of the exhibition entitled "After the Great War. New Europe 1918 – 1923" will take place. The exhibition, prepared by the European Network Remembrance and Solidarity (ENRS) with the participation of more than 40 historians from 18 countries, presents the unique story of the birth of a new order in Europe after 1918, with special emphasis on Central and Eastern Europe. The open-air exhibition is coming to Rijeka as part of a European tour that started in 2018. So far, the exhibition has been shown in nine European cities: Sarajevo (Bosnia and Herzegovina), Verdun (France), Berlin and Weimar (Germany), Prague (Czech Republic), Bratislava (Slovakia), Wroclaw, Krakow and Warsaw (Poland). Documenta – Center for Dealing with the Past, Faculty of Philosophy, University of Rijeka and Rijeka2020 are bringing the international exhibition "After the Great War" to Croatia for the first time.
The exhibition has the shape of a white-and-silver cube pavilion that stands out for its original construction. It consists of more than 200 items from archival material – photographs, copies of documents and films. The content is presented in the form of texts, film captures and interactive exhibits located both inside the pavilion and on its external sides. Part of the exhibition consists of background sounds from the presented period. Historical documents and personal memories create a story of the difficult beginnings of New Europe and a legacy that still affects its inhabitants today, despite the fact that the Great War ended a hundred years ago.
More information about the exhibition can be found in the attached document.
The Croatian edition of the exhibition is part of the official program of the European Capital of Culture Rijeka 2020 and the "Times of Power" flagship.