Exhibition "After the Great War. A New Europe 1918 – 1923" opened in Rijeka
21. October 2020 11:57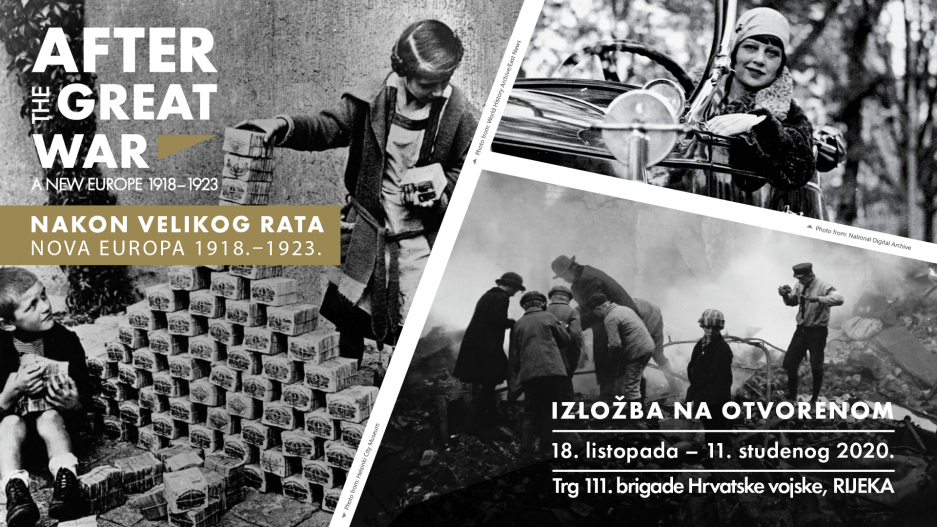 The official opening of the exhibition titled "After the Great War. A New Europe 1918 – 1923" was held in Rijeka on 20 October. The exhibition was organized as part of the Rijeka 2020 European Capital of Culture program and will be open to visitors at Square of the 111th Brigade of the Croatian Army until 11 November.
Dr. Boris Stamenić, coordinator of the program segment "Culture of Remembrance" in Documenta – Center for Dealing with the Past, welcomed the representatives of the diplomatic corps in Croatia, representatives of the City of Rijeka and other institutions, as well as the citizens present at the opening ceremony. He said that the exhibition focuses on a short but extremely turbulent period after the end of the First World War, which left a deep mark on the history of Rijeka. The importance of this exhibition lies primarily in its Pan-European perspective and the successful overcoming of ethnocentric views of the past, while avoiding the trap of interpreting it from the perspective of future events, Stamenić emphasized.
Rafal Rogulski, director of the European Network Remembrance and Solidarity, expressed his satisfaction with the arrival of the exhibition in Rijeka in a video message. The narrative of this exhibition is the result of the work of many historians from different European countries with different experiences of the past, Rogulski said. He added that the greatest value of this exhibition was the fact that historians from so many countries were able to reach a consensus concerning its contents. Prof. Dr. Vjeran Pavlaković, associate professor at the Department of Cultural Studies at the Faculty of Humanities and Social Sciences in Rijeka, stressed the importance of this exhibition, which evokes the times when Rijeka was on the front pages of newspapers across Europe, and expressed his hope that many citizens will take the opportunity to see it for themselves. Emina Višnić, chief executive officer of Rijeka2020, expressed her satisfaction with the arrival of the exhibition in Rijeka and emphasized the fact that the exhibition provides a great contribution to the realization of the "Times of Power" program as part of the European Capital of Culture project. Vojko Obersnel, mayor of Rijeka, emphasized the importance of the exhibition in the context of contemporary challenges and conflicts in the field of remembrance faced by today's societies.
In the second part of the opening ceremony, Dr. Stamenić and Prof. Pavlaković briefly presented the concept and contents of the exhibition and expressed their hope that the exhibition will attract many visitors and provide material for them to think about.
Photos: Karlo Čargonja