Reminder: International Spring Forum 16th-18th June
10. June 2021 09:29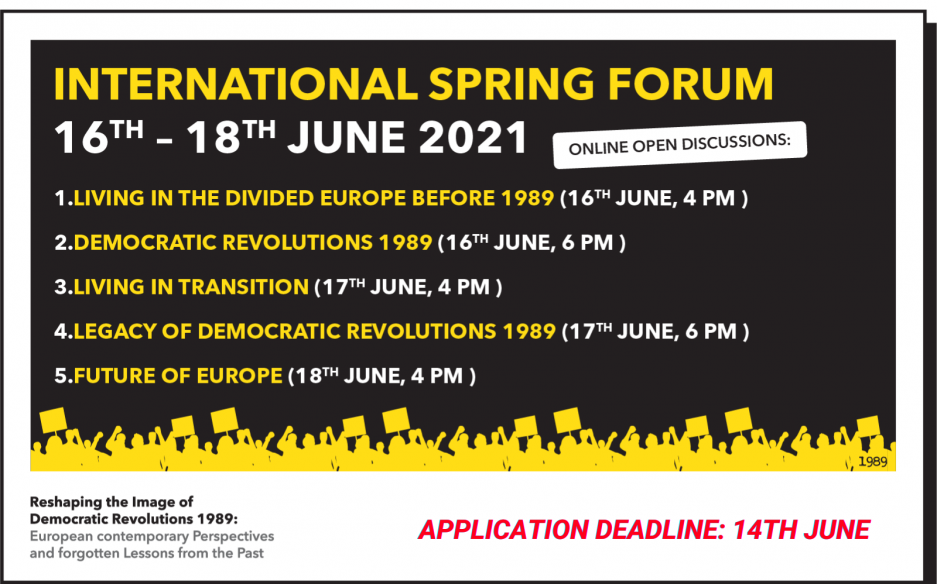 From 16th to 18th June Documenta and partners are organizing five consecutive online sessions dedicated to the topic of democratic revolutions 1989 and their legacy. Join us for interesting presentations and following discussions with participants from all our Europe!
The opening session under title "Living in the divided Europe before 1989" will approach the broad issue through the perspective of tourism and international mobility in the 1980s in Europe. After the short input about development of tourism on both sides of the former Iron Curtain we will speak with a lady with remarkable record of traveling throughout Europe in the 1980s.
The second session titled "Democratic Revolutions 1989" will begin by a brief presentation of the different forms in which the "democratic revolutions" took place. The time-witnesses will provide us a valuable insight into the Romanian revolution of 1989 and its weird aftermath. The third session titled "Living in Transition" will revolve around different facets of social and cultural change and its reception (and perception) in a dialogue with scholars from Croatia and Estonia. In the fourth session, four guest speakers from Germany, Poland and Hungary will discuss how to transfer the unique experience of 1989 revolutions into today's reality. In how far is the 1989 nowadays an attractive historical point of reference for young people involved in social movements or political groups?
Departing from the position of 1989 legacies, the closing session of the International Social Forum will move on to question future visions of Europe. The session will both outline the main socio-political current challenges which Europe is facing, as well as offer possibilities of redefining it as a concept. The participants of the session will work together in forging different visions of Europe according to their own personal experiences and expectations.
The international spring forum is a second activity in the frame of the project "Reshaping the Image of Democratic Revolutions 1989: European contemporary Perspectives and forgotten Lessons from the Past", co-funded by the Europe for Citizens Programme of the European Union. For more information click here:
https://kulturasjecanja.documenta.hr/…/reshaping-the…/
The online registration is open until 14th June ->
We are  looking forward to see you at the Forum!