On-line panel entitled "Between memory and oblivion" / part 2 held
28. September 2022 08:16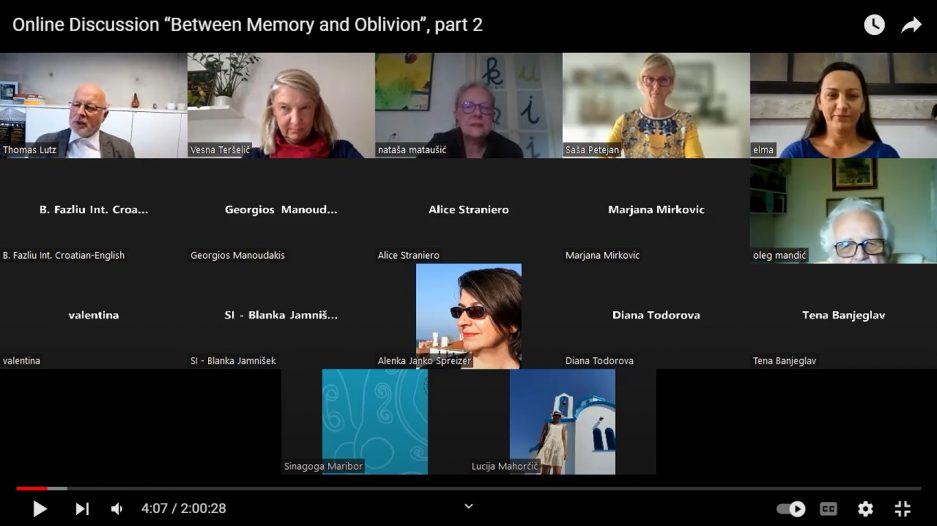 On Tuesday, September 27, 2022 on-line panel discussion entitled "Between memory and oblivion" / part 2 was held. In the introductory part, the panelists presented selected examples of international cooperation. Thomas Lutz,  Director of the Museum department, Topographie des Terrors, Berlin and Nataša Mataušić,  historian and curator, Zagreb presentednegotiations regarding the future permament exhibition of the, now empty, Yugoslav pavilion in the Auschwitz-Birkenau State Museum in Oswieci. Elma Hašimbegović,  director of Historical Museum of Bosnia-Herzegovina, Sarajevo presented pasted and planned international exhibitions and programs on the fate of the victims of World War II. Saša Petejan, journalist and curator,  Zavod APIS, Koper, Ljubljana presented planned renovation of the Kampor Memorial Cemetery on the island of Rab.  The discussion was moderated by Vesna Teršelič, director of Documenta. 
Recorded session in English is available at the link: https://youtu.be/o9KqBwH0oHE
The panel is part of the project "Between memory and oblivion: WWII places of memory", developed by Documenta in cooperation with partners: MMH Dachau and University of Regensburg (Germany), Associazione 4704 and Topografia per la storia (Italy), Zavod APIS and Socialna Akademija (Slovenia), in order to stimulate discussion about the memories of the Second World War (former concentration camps, forced labor, execution grounds, prisons, resistance…) and strategies to oppose the forgetting of these places, as well as the stories of victims and survivors, with whom we are facing.
The project is supported by the European Union, through the Europe for Citizens program.