MULTIMEDIA CITIES: THE APP RIJEKA–FIUME IN FLUX // WORKSHOP FOR TEACHERS AND EDUCATORS
20. April 2022 10:51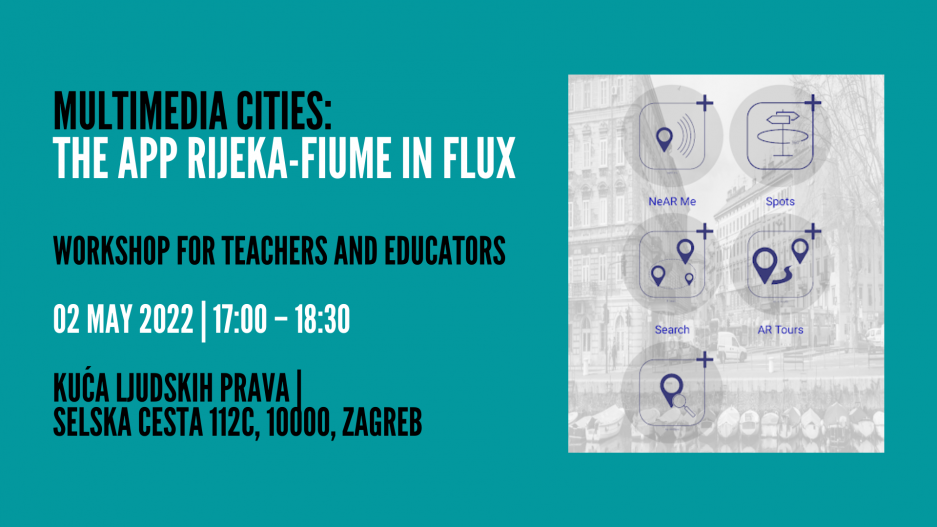 MULTIMEDIA CITIES
THE APP RIJEKA–FIUME IN FLUX
WORKSHOP FOR TEACHERS AND EDUCATORS
02 MAY 2022 | 17:00 – 18:30
Kuća ljudskih prava | Selska cesta 112C, 10000 Zagreb
The workshop is dedicated to the presentation and testing of the smartphone app "Rijeka-Fiume in flux", created by the University of British Columbia Okanagan (Canada).
The app was developed as an instrument to guide the public in the exploration of the cultural and historical landscape of Rijeka, through its roads, squares, neighborhoods, buildings and monuments. Through the app, the visitors amplify their experience of chosen urban routes, and discover the stratifications sedimented through the time in the public spaces of this city on the border.
The workshop aims to involve teachers and educators in a participatory way, test the characteristics of the app, and discuss its use in different fields and activities.
The workshop will be held in English language.
Brigitte le Normand | Maastricht University / University of British Columbia Okanagan
Marco Abram | Osservatorio Balcani Caucaso Transeruopa
Please confirm your participation to the workshop until the 28th of April at the e-mail: alice.straniero@documenta.hr